Christy - President and Founder of Loyal Tails Pet Services, LLC
Christy founded Loyal Tails Pet Services, LLC in Beaverton, Oregon in 2015.  Christy studied Business Management and photography at the University of Texas at Arlington b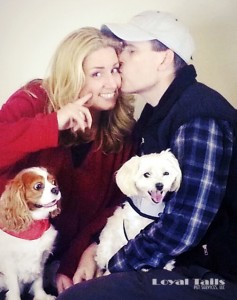 efore working in IT for a number of years and volunteering for several non-profit organizations dedicated to animals in both Texas and Oregon. 
Christy's special bond with all animals began at an early age while growing up on several military bases across the world before settling in the beautiful wonderland of the Pacific Northwest in 2000.  From nursing an injured pigeon back to health to adopting and fostering several rescue animals, Christy's devotion to the care and well-being of all animals has been a lifelong pursuit.  With over 20 years' experience of caring for animals, Christy decided to pursue her love of photography, along with her passion and love for animals by providing exceptional trusted care to the pets in the Beaverton, Hillsboro, Tigard and Aloha areas and giving the peace of mind to pet parents that their treasured pets are being treated like family while they are away.
Christy is proud to be a professional dog walker and pet sitter that is dedicated to offering an exceptional standard of service.  When you choose Loyal Tails Pet Services, LLC to care for your furry family,  you can trust that your loved one is with someone that will love them as much as their own.  Christy is bonded, fully insured and trained in pet first aid and CPR.  Christy is an active member of Pet Sitters International and Women in the Pet Industry Network.